RFID Applications: Use Cases, Pearls & Pitfalls
Watch this recorded webinar where we discuss the details, challenges, and evolution of Bluestone Perennials's RFID project.
How to Successfully Launch an E-Commerce Platform
In this blog series, we lay out everything you need to consider to make the jump into e-commerce.
Guide to RFID Equipment for Horticulture
Our guide will introduce you to everything you need to get started with using RFID in your horticultural business.
"Connecting the Dots" with RFID
Skip the trial and error — we pulled the full solution together so you don't have to.
Manage Your Inventory the Easy Way
Let us show you how we can help streamline your business and reduce redundant tasks.
How Our RFID Process Works
A look into our customers' journey from initial consultation to fully implemented system.
Contacting Arbre Tech Support
An in-depth video guide on how you can contact Arbre Tech's support team.
Bluestone Perennials' RFID Success
We implemented a custom solution to help Bluestone keep up with increasing demand during the Covid-19 pandemic.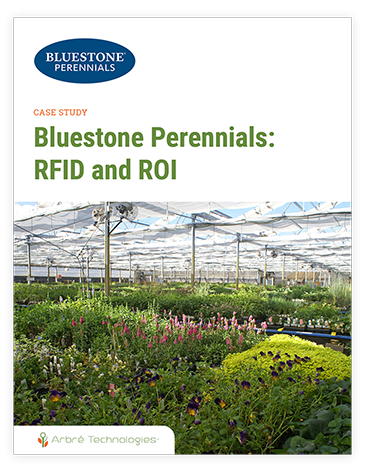 Nursery: Bluestone Perennials
Learn how Bluestone Perennials streamlined its business processes and ovecame their biggest obstacles.
Hemp: Delta Agriculture
Learn how Delta Agriculture automated their business for compliance and growth.