Guide to RFID Equipment for Horticulture
How are you taking inventory and doing shipping verification at your business right now?
The "state of the art" for horticulture businesses can vary wildly.
Businesses might use paper and pencil or tally counters, and then enter the results into a log book or computer spreadsheet.
They might be doing manual data entry into a spreadsheet, an Access database, or a green-screen DOS database.
They might be using a decades-old bar-code system.
Even people who say they're tech-savvy may be using some sort of quasi-technical workaround, like taking inventory notes in their iPhone Notes app or emailing themselves notes.
The sad thing is, there are easy and affordable platforms out there than can do away with the pencil and paper and make these processes so much easier. In the process, they can bring your business into the modern era, with plenty of room for growth and expansion.
Horticulture businesses don't need expensive, fragile technology with the wrinkles still being figured out as they go along. They need robust, proven technology that can take a beating.
Fortunately, this technology exists: radio-frequency identification, or RFID.
When RFID technology became popular in the early 2000s, there were few tag, reader, and antenna options – and few people were thinking about RFID's applications for the horticulture industry. 
Now, many more RFID products are being employed in more ways than ever before in horticulture – including some products designed more-or-less specifically for the industry. 
This guide will help you make the best decisions about RFID's applications in your business, so your project is a success the first time.
Should you implement RFID in your business?
Deciding whether to implement RFID in your business is a multi-step process. In order, those steps should be …
Step 1: Get informed (and/or partner with someone who is)
RFID can really be a game-changer for your business, because it can fundamentally change the way you run your business, in terms of how you allocate your resources towards various tasks. Because of that, it doesn't make sense to go it alone, assuming you'll figure out things along the way.
Horticulture-RFID specialists like Arbré Technologies take a systematic approach to determining your RFID needs. That includes:
An over-the-phone discussion of your situation: In order to get the process rolling, Arbré Technologies conducts a series of in-depth discussions with a horticulture business thinking of employing an RFID solution.
The questions Arbré asks deal with:
The size of the business
Employee allocation
Profit centers
Specialties or product lines
Wholesale/retail split
Level of technology/automation within the business
Business platforms used
Business plan
Because a large tree-wholesaling operation may have vastly different RFID and tech-integration needs than a small business that sells perennials at retail, answers to questions like these can help horticulture-RFID specialists begin to conceptualize individualized solutions.
A site visit: Nothing answers questions like seeing a business in operation – which is why it's so important for RFID vendors to visit your businesses at some point in the process.
It doesn't have to be right away, however. For a tech-aware small- to medium-sized business already running an accounting solution like QuickBooks, it's very conceivable that such a business can run with an out-of-the-box solution and immediately start seeing reductions in time spent on tedious tasks like inventory.
However, to ensure appropriate implementation and the ability to scale the solution to accommodate business growth or to take on a larger share of the operation, a site visit within the first 12-18 months of RFID implementation is a good idea.
An initial proposal: The initial proposal should include all costs associated with the project, including the cost of the hardware and software, any development time that might be needed to customize the program for your operation, and any follow-up work that is anticipated. The proposal should also touch on costs for things like ongoing support or triage in case things go wrong.
Most proposals have an expiration date. It's fair to ask whether that expiration date is firm, or whether there's some "wiggle room." Adding RFID to your operation is a commitment. You shouldn't have to be pressured into making a decision to fit an arbitrary timeframe.
A follow-up: There should be extensive follow-up communication between you and the solution provider, generally initiated by the provider. They should be asking you how the integration is going, what sorts of results you're seeing, and whether there are hangups with the implementation.
Be honest. This is your chance to talk through any implementation problems, and get expert help in solving them.
You have a right to expect your vendors to be willing to help you work through problems. Their reputation is on the line; they understand the way the horticulture industry works, and the negative effect one bad implementation can have on their business.
Arbré Technologies' goal is to get it right the first time. The company's experience with implementations of all sizes enables them to quickly ascertain the overall business need, project scope, and budget, identify the types and amounts of required equipment, and prescribe solutions. Arbré can then make modifications as they work through a pilot program at your operation.
Step 2: Ask Questions and Set Goals
Deciding whether and how to implement RFID at your business requires a dialog between you and the technology provider. Both of you should ask a lot of questions (and remember: with something like RFID, there's no such thing as a stupid question).
Here are some of the questions you should work through with your RFID solutions provider:
What's the business problem/goal you are trying to solve/achieve?
Basically problems fall into one of four buckets:
1. I need to know how much inventory I have at any time
RFID-based solutions can help you track your inventory down to the last unit, so you always know what you have on hand.
2. I have limited resources – time, people, and money
The process-driven solutions provided by a vendor like Arbré Technologies can reduce in-field labor costs by more than 80% and increase efficiency by 90% or more.
3. My business needs to grow and remain competitive
The better business intelligence provided by an integrated RFID solution can help you understand needs and opportunities instantly.
4. I spend too much time on redundant tasks
The software platform provided by a vendor like Arbré Technologies can integrate seamlessly with your website and current business and financial management systems, eliminating duplicate entry and improving accuracy.
What's your current system?
You may not have a system, your system may not be optimized for a horticulture business, or you may have a full-fledged horticulture-specific RFID system in place.
Basically, there's no shame in not having an RFID solution in place. RFID is fairly new to the horticulture industry, and frankly, if a business is doing just fine without RFID they may not have felt the need to spend money on such a solution.
However, here's the thing: The pace of adoption of RFID solutions continues to pick up within the horticulture industry. As more and more businesses adopt solutions and start enjoying the improved efficiency these solutions provide, there's a greater impetus for those who haven't adopted these systems to integrate them into their businesses.
What's your desired application?
Obviously, the key to implementing a solution is defining a problem. You may not have a desired application in mind right now. In fact, you may not have a desired application in mind once you've isolated and categorized your problem. RFID can solve a lot of problems, and you can't be expected to know all of them in their depth and breadth.
That's another reason why you should look for an RFID solution that's designed for the horticultural industry. A horticultural-RFID specialist knows the various applications, and how they might apply to your business.
So the short answer is: Don't worry about not knowing the desired applications yourself – but be sure to partner with someone who does.
What's the timeframe for deploying this application?
Some implementations are straightforward and quick (as in, "out of the box and up and running" quick) and some are … less so. It depends on the complexity of your business, your spectrum of needs, and your own business exigencies – because business needs to keep being done while your solution is being implemented.
Once again, working with a professional who's on the ground and understands your business is the best way of having the application deployed quickly and trouble-free, and with a minimum of disruption.
What's your budget?
RFID solutions can cost anywhere from hundreds of dollars to hundreds of thousands of dollars.
In which country will you be using RFID?
Different countries have regulations regarding the use of RFID antennas and related equipment, and the radio frequencies in which they can operate. If you're not sure about the rules where you are, contact a horticulture-RFID specialist, like those at Arbré Technologies.
Do you require a full solution (including software and installation), or are you looking to purchase hardware/tags only and implement the solution yourself?
During the phone or on-person assessment, a horticultural-RFID specialist will be able to tell if you're able to go the DIY route.
It's not just a matter of the level of technological sophistication of your business. It's the technology and software platforms you're on and how they work together.
A specialist can let you know if you're able to go DIY – and if so, what you need to buy to accommodate your business and inventory.
Which items/assets would you like to tag and track?
In general, RFID tagging makes the most sense for trees and bushes, larger-diameter perennial items, or commodities like sugar cane and bamboo. But every business is different.
How many read points or read zones do you need?
RFID technology requires you to set up a place or places where the tags can be read. In general, horticulture businesses are set up with "read zones." The best way to create these zones is to segment your business into blocks. Each block becomes a zone, and each zone either needs an RFID reader in a specific place – a "read point" – or inventory needs to be taken read zone by read zone.
Where do you plan on placing the reader, computer equipment, antennas, and so forth?
Readers can be stationary or mobile – placed on a golf cart or simply walked down rows by hand. The size and nature of your business can help dictate how you use readers.
Step 3: Understand the Hardware
The basic premise behind RFID is pretty simple. Inventory items are tagged, readers scan an area and count the tags (or pull other data from them), and then the data is sent to a computer for analysis.
Since RFID can be employed in so many settings, it stands to reason that there is a wide range of RFID equipment.
Readers can be fixed or portable; antennas and cables can be heavy-duty and rigid, or lightweight and flexible. Tags are available in many shapes, sizes, read ranges, and durability levels.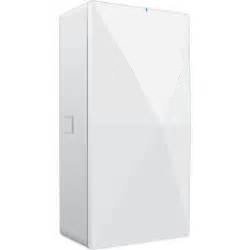 Fixed Readers
Fixed or stationary readers are immobile, high-performance devices for reading and writing tags in all types of applications. Two types of fixed readers exist:
Non-integrated readers that connect to antennas via coaxial cable
Integrated readers, with a reader and antenna combined in one device
Stationary readers can support up to 64 antennas, meaning that a powerful reader coupled with powerful antennas may be able to efficiently (with the use of auxiliary multiplexer devices) cover an entire business.
Some of the questions you may have regarding stationary readers include:
In what country will you be using the RFID reader? Countries differ in their regulation of the UHF bands on which most readers and antennas operate.
Where will the reader be mounted? The reader needs to be put in a central location that makes inventory efficient.
How quickly will the tags be moving through the read zone? Scanners differ in their ability to quickly read tag information. An analysis of your business an inventory processes can help answer this question.
How many tags need to be read at one time? If the ideal is for a reader to immediately glean information from a trolley full of smaller tagged plants, it's best to install a reader that can read dozens of tags at once.
How many antennas do you plan on using with this reader? Some non-integrated readers are better able to accommodate multiple, multiplexed antennas.
How will the reader be powered? A reader needs a power supply. This has to be built into your RFID planning.
Any environmental conditions to consider? Excessive heat, cold, and moisture can affect the performance of a reader. It can also be affected by multiple shocks, jolts, or other impacts.
Will the reader be connected directly to a host computer or placed on a network? Most readers can accommodate either application, but it's helpful to know.
Will you need any GPIO functionality, like light-stacks or motion detectors?
Handheld Readers
Handheld readers are great for locating tagged items or taking inventory, with their integrated antennas and either an onboard computing device or a connection to a device like a smartphone or tablet. Like fixed readers, handheld readers are relatively easy to set up and use out of the box.
Among the most common questions that need to be answered about mobile readers are:
In what country will you be using the RFID reader? Countries differ in their regulation of the UHF bands on which most readers and antennas operate.
Any excessive environmental conditions to consider? Excessive heat, cold, and moisture can affect the performance of a mobile reader. It can also be affected by multiple shocks, jolts, or other impacts.
Which operating system do you prefer? There are mobile readers that can work with Windows, Android, and Apple's iOS. It's a good idea to match the reader's operating system to the system you're using for your business. It's not a good idea to have a dedicated computer for the reader running iOS when the rest of your business is on Windows.
Will you be using your mobile device, or will the mobile RFID reader need its own computing system? The answer to this question largely depends on how you're currently implementing mobile devices through the rest of your operation. If your operation relies on mobile devices for communication, photography, and other tasks, it might make sense to put the RFID reader on the same mobile platform.
How will you power your readers? Mobile readers are most often battery-powered, but they don't have to be.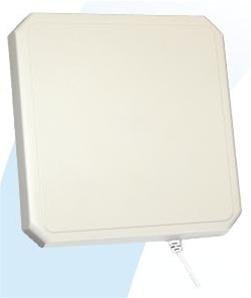 RFID Antennas and Cables
RFID antennas convert a RFID reader's signal into waves that are picked up by RFID tags. Without an integrated or standalone antenna, the RFID reader can't send and receive signals to RFID tags.
RFID antennas get their power from the reader, and use it to generate a radio-frequency field and transmit an RF signal to the tags within its range.
Antennas and antenna cables are essential in systems with a non-integrated fixed reader or reader module. (Handheld readers and integrated fixed readers are manufactured with an onboard antenna, so purchasing an antenna is not necessary.)
Antennas vary in their ability to generate waves in a specific direction; this ability is known as the antenna's gain. The higher the gain, the more powerful RF field an antenna has, and the greater its reach.
Antennas are also distinguished by size and polarity. Size is simple; polarity isn't quite as easy.
An RFID antenna gives off RFID waves along a horizontal or vertical plane – and that plane is the antenna's polarity. An RF field on a horizontal plane is horizontally linear, and one on a vertical plane is vertically linear.
This comes into play when you look at how your tags are placed. For optimum readability, horizontally mounted tags should be paired with a horizontally linear antenna, and vice versa.
The coaxial cables that attach antennas to readers come in different lengths, insulation ratings, and connector types (which correlate directly with the connectors on the chosen reader and antennas). In order to choose the appropriate cable for the application, it's vital to choose the reader and antenna first.
Answers to the following questions will help narrow down which antennas and cables will work best for your application.
How much read range do you need? The most powerful antennas can read up to xx feet.
Is it possible to always know or control the orientation of the RFID tag relative to the antenna's position in your application? Plants, being natural things, can sometimes grow in unexpected ways, and change a tag's orientation in the process. If that's a characteristic of the plants in your operation, you may need to look at tag placement, and/or use a reader that can read off-axis tags accurately.
What are the dimensions of the ideal read zone? Obviously, the more standard the tag placement the better, but again, that's not always possible. A reader needs to have an adjustable read zone to accommodate the variations among your tags.
Will the antenna be mounted indoors, outdoors, or on a vehicle? The more stress that's placed on an antenna, the more robust the antenna needs to be. Also, some applications may require mounting brackets or other hardware.
Any environmental conditions to consider? Excessive heat, cold, and moisture can affect the performance of an antenna. It can also be affected by multiple shocks, jolts, or other impacts.
Do you need rugged enclosures to protect your technology? RFID technology can take a lot; however, you may want to consider enclosures if your antennas and readers are subjected to extreme weather or multiple heavy shocks.
Size limitations? RFID readers and antennas are fairly compact; still, there may be applications with extremely tight tolerances. There is equipment on the market that can worked in cramped quarters; an RFID expert can steer you toward options.
How will you power the readers and antennas? Antennas are powered by readers, but readers need a power source, whether battery or plug-in. Your application and the layout of your business will dictate which power options work for you.
Which reader and antenna(s) are you using? Compatibility can occasionally be an issue.
Will any cable need to bend more than 45 degrees to connect to an antenna? Some cables are flexible, while others are semi-rigid. If a cable needs to bend sharply – to fit around the corner of a building, for instance – certain cable options will be preferred.
RFID Tags
There's a wide array of RFID tags on the market, differing in size, construction, attachment mechanism, read range, durability, and much more.
Since there are so many RFID tags available, it's imperative to narrow the search to find a tag that fits your requirements.
It's quite possible that your business might need multiple tag types. That's where a site visit can be extremely valuable.
Arbré can help you determine the best tag(s) for your application. If you will be tagging more than one type of object, we'll help you find a tag that will work for all objects, or think through the requirements for each object to be tagged.
Types of RFID tags are:
Inlays/Labels
RFID inlays and labels can support printing of human-readable and barcode information. These tags:
Vary in size, read range, printability, adhesive choices, and more;
Are usually peel-and-stick or hang-on;
Are more commonly used than hard tags due to cost; and
Have basic features.
Inlays and labels are great if you have a lot of plants that aren't exposed to extreme weather conditions, and you just need basic information, like counts. Because they're unobtrusive and relatively disposable, they can be used in retail operations where it's not necessary for the tag to be retained after the plant is sold.
Some of the more common questions with inlays and labels include:
How many items will you be tagging? As mentioned earlier, inlays and labels can be a highly cost-effective solution for large-scale operations.
How long will the tags need to last? There's no hard-and-fast lifespan for an inlay or label. A lot depends on the weather conditions they're exposed to. You may want to test inlay tags in your operation and see how they withstand conditions.
Size limitations? Especially with tags for retail items, you may want the tag to be as small as possible.
What type of surface will you be tagging? If you're attaching labels, standard adhesive may not work on surfaces like wood or metal. Again, you may need to experiment.
If using an RFID printer, which RFID printer will you be using? A special printer is often used to create RFID tags – but some tags don't require a special printer. A thorough business analysis will help answer this question.
Specialized RFID printers make more sense if you're printing on special stock or need perforated tags.
Any environmental conditions to consider? Tags can be affected by excessive heat, cold, moisture/ liquids, impact, vibrations, UV rays, corrosive elements, and more. If any of these are present at your location, they may affect your tag choices.
Is high-temperature adhesive required? Tag adhesive can literally melt in high-temperature operations.
Do you require any user memory (i.e., will the tag have to store something other than the unique product code)? Talk to an RFID specialist about the types of information RFID tags can store, and whether any of them make sense for your business.
Loop-Lock RFID Labels
Loop-lock RFID labels are heavier-duty tags that can be used for a variety of applications.
Depending on the particular tag, loop-lock tags can have a number of advantages, including:
Increased read range
Embeddability
The ability to tolerate extreme temperatures
Autoclavability
The ability to be attached in different ways and in different locations on the plant
The drawback to loop-lock tags include:
They can be more expensive than RFID inlays/labels
Labeling and encoding is a more manual process
Some tag types cannot support a label
RFID Hard Tags
RFID hard tags are constructed from materials like plastic, ABS, ceramics, or polymer. These tags aren't paper-thin like inlays and labels; they're usually designed for specific application requirements such as increased read range, embedding into objects, ruggedness, and increased heat and cold resistance.
Depending on the particular tag, hard tags can have a number of advantages, including:
Increased read range
Embeddability
Temperature tolerance
Autoclavability
Variety of attachment methods
The drawbacks to hard tags include:
They can be more expensive than RFID inlays/labels
Labeling and encoding can be a more manual process
Some tag types cannot support a label
Some of the more common questions with hard tags include:
How many items will you be tagging? The costs of thousands of hard tags can add up; the upside is that the tags can be reusable.
What type of surface will you be tagging? The material may dictate the attachment method, which can include epoxy, rivets, screws, or cable ties.
How long will the tags need to last? Hard tags can be extremely durable, but because they can be made from different materials, the desired lifespan can help dictate the material chosen.
What read range do you require? One of the reasons to choose hard tags is because of their extended range. However, even extended ranges have limitations. Your desired read range can help determine tag type.
Size limitations? Hard tags can be bulky. They may not be the best choice for smaller, more fragile plants.
Any excessive environmental conditions? Heat, cold, moisture, UV rays, corrosive elements, and vibration can all impact tags' performance. Understanding the environment in which the tags will be functioning is key to choosing the right tag for the application.
Any user memory, custom coding or printing? While these can drive up the price of tags, they can also provide richer data that can enhance efficiency. It's important to understand the dimensions of the tradeoff.
Target price per tag? Hard tags can cost $1-$20 each – an extremely wide range. Doing a cost-benefit analysis on your tags can help you choose the optimum solution for your business.
Hopefully this paper has helped you understand how RFID works, and gives you some comfort in the knowledge that RFID technology is flexible enough to deliver significant gains in efficiency and productivity in multiple settings.
If you have additional questions on how RFID might work in your specific application, reach out to an Arbré Technologies professional for more information.
RFID is the ideal application for horticulture businesses – rugged, simple, flexible, and proven. Arbré Technologies is excited to bring this technology into more businesses across the industry … starting with yours.
We're Here to Help
If you have questions or need help deciding what's best for your application, get in touch!