We may be characterized as a cutting-edge tech company, but when it comes to our product, we're really sort of old-fashioned and cautious. We don't believe in releasing new features unless we're sure that:
They work great; and
They'll help your business.
We're happy to say that we have a new feature that totally checks both boxes – it works flawlessly and it can help your business be more efficient and productive.
It's called File Management, and it can help you manage inventory-related documents, photos and more, from your office, field, warehouse – anywhere!
Our customers have been asking whether we can give them a place to append and store documentation related to their stock, and File Management is that place. It lets you attach a wide variety of files to an individual plant record, so you can have a plant's entire history in one place, accessible with a couple of clicks, and easy to add to and edit.
File types you can add to a plant record include:
Word and text files
Excel files and other spreadsheets
PDFs
Image files
That's a lot of different file types … and think of what you can do with the ability to attach those files to your plant records. You can add and store important documentation like:
Compliance files
Lab tests
Regulatory documentation necessary for track-and-trace compliance
Vendor claim documentation
Plant health records
Growth records
Spray records
Crop insurance files
All of this information can be attached directly to a plant or tree profile … right from the Arbré app.
We know you don't have a lot of time to learn new procedures, so we've made File Management super-simple to use.
Here's how it works. Within the web app, navigate to the inventory item profile (also known as the plant profile). Click the Add/Manage button near the top of the screen.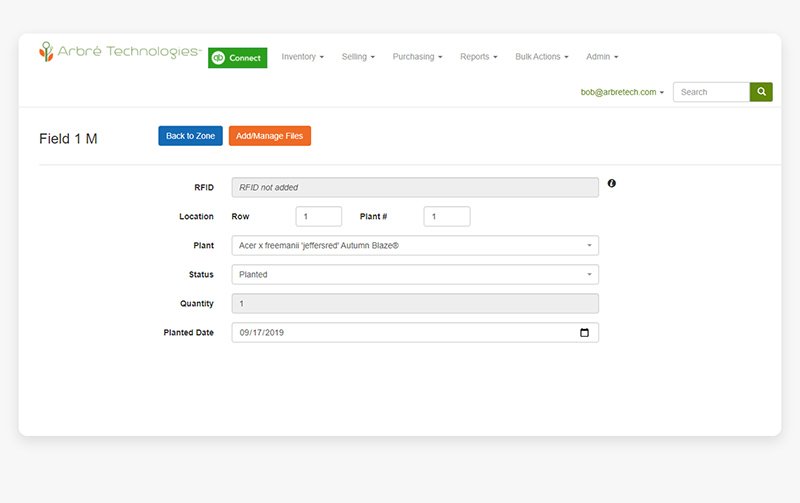 To upload a new file, simply click Choose File, select the document or photo to upload, and click Open. Then, click Upload.
Once the upload completes, you'll be able to download or delete. You'll be able to quickly see when the file was uploaded and the date it was added.
That's all there is to it.
Once you've attached these files to your records, they'll be accessible via the web and mobile app. Any user who accesses the inventory item can manage these files.
File Management is the latest enhancement to the Arbré Nursery platform – and it's surprisingly easy to add, and affordable to keep. It's the latest improvement … but it's not the last one by any means. We keep striving to find new ways to partner with you to make your business run more efficiently and profitably.
Want more information on File Management and its ability to help your business grow and prosper? Contact Arbre Support to learn more.