Case Study: Bluestone Perennials
Bluestone Perennials is a large, family-run, Ohio-based mail-order retailer of perennial plants that needed flat-level data on its inventory, including:
How many plants of a given variety were in stock
Where they were in the growing cycle
Where they were physically located in the operation
Bluestone turned to Arbré Technologies for a custom solution that could quickly read multiple tags and feed data into inventory and sales platforms, providing near-real-time updates of plant counts.
However, as the COVID-19 pandemic hit, the planned "soft launch" of Arbré's system was scrapped, and the solution became a lifeline for stretched-beyond-capacity systems and staff.
Video: Learn how Bluestone Perennials was able to triple their business during a pandemic with the help of Arbré Technologies.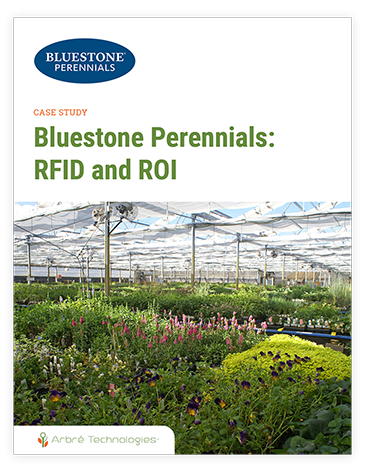 Download the Full Case Study
Get all the details of how Bluestone Perennials streamlined its business processes and overcame their biggest challenges.
We are very pleased to be working with Arbré Tech. It is very exciting automating our data-capture needs by having our plants "talk" to us. We now spend our time working with the numbers instead of collecting them.
Since Richard Boonstra started Bluestone Perennials in 1972, the business has grown from two small rented glass houses into one of the country's largest mail-order nurseries — a family-owned company with loyal, long-time employees.
The company does its own growing, packing and shipping, and employs more than 100 during its busy spring season.
The Problem
Bluestone was 'just getting our heads kicked in by the volume'
Prior to the pandemic, Bluestone's challenges centered around better data faster, with less human intervention, so it could meet customers' demands for near-immediate fulfillment, next-day shipping, and great customer service.
Once the pandemic struck, in March and April 2020, customer demand was coming from everywhere – mail, email, phone, internet – in volumes that previously would have seemed unimaginable.
Suddenly there were so many customers, and a company that prided itself on two-day turnaround saw its shipping backlogs explode to four weeks.
And with that came other problems – like knowing whether the plants in back were earmarked for shipping or available for sale in Bluestone's retail garden center.
Under these incredible circumstances, it was vital to understand how many plants were in stock, where in the operation they were, and which plants were in peak condition, available for sale or already spoken for.
Getting any of these wrong could be disastrous for a business that prides itself on positive customer experiences. The data had to be correct – every time.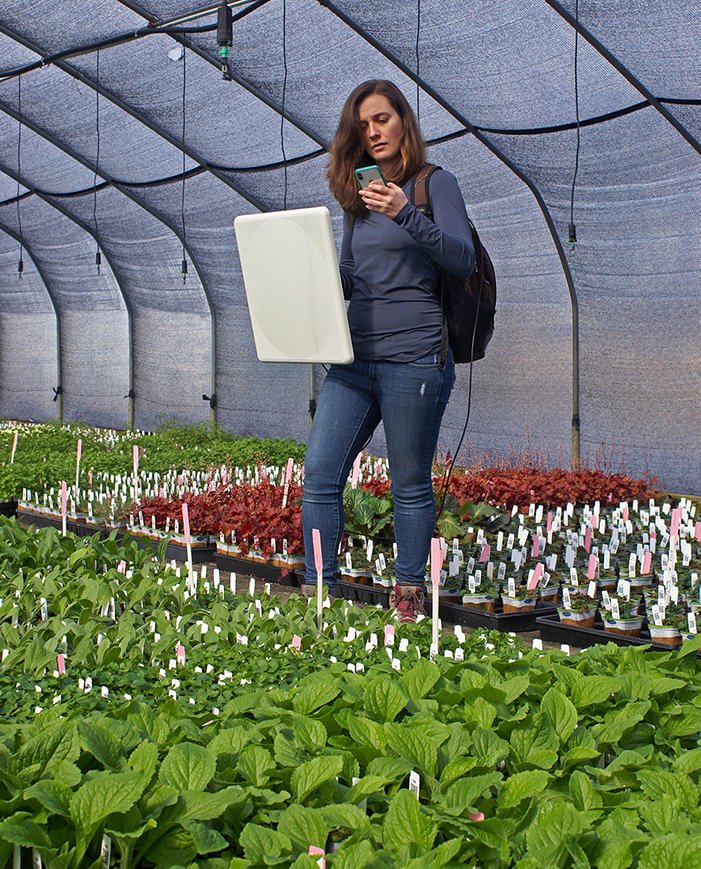 The Solution
A custom answer that 'solves a whole bunch of problems'
Bluestone needed a custom system to sync up with its sales and back-office systems and deliver required efficiencies. Arbré needed to be nimble and adapt some of the software to meet Bluestone's requirements.
The final product took a lot of back-and-forth, but was ready to "soft launch" when the pandemic hit.  
"We thought we'd just get the training wheels bolted on and see what we thought, run dual systems," CEO Bill Boonstra says, "and we didn't have the time." 
Instead, as Boonstra says, "We said, 'This looks like a go, chuck the old way, we're all into the new way, and away we go.'"
Arbré's RFID-based solutions helped free up precious manpower to handle other pressing tasks around the company. And that has enabled the business to continue serving customers under the most extreme circumstances. 
Summing up, Boonstra says, "There's no way we could be doing what we're doing if we had not brought Arbré Tech up on line."
Flat-level Data
Bluestone has as many as 3,000 varieties, but it may have limited quantities of a given variety. Block-level data doesn't cut it. According to Boonstra, Arbré "was the only solution on the market that could give us data on a flat level."
Improved Customer Experience
"There's no room for error with our customers," Boonstra says. "They could leave us in an instant if an order's not right, or it's not shipped quickly enough." Because Arbré can update order quantities in near-real time, the chances of inaccurate information being displayed on the website have been reduced greatly, and order picking and shipping have also improved.
Business-Critical Data in a Business-Critical Situation
The pandemic blew up all of Bluestone's business processes. Arbré's data helped restore order, and provide the information Bluestone needed to make critical decisions. "[It's] just been a godsend, for us to have this 40,000-foot view looking down on our inventory, knowing which sets are graded at what, how many are there, and with each half-hour of activity all of those numbers are getting updated, so we can make intelligent decisions."
Resource Savings and Reallocation
Because Arbré Technologies' systems were able to function with minimal human involvement, Bluestone was able to reallocate four of its best employees to other areas of the organization at a time when manpower availability was unknown from day to day and human resources were the company's most precious commodity.
Customer Satisfaction Under Difficult Circumstances
By helping track and manage inventory, Arbré Technologies' equipment and systems minimized order mixups and overselling, and kept plants appropriately segmented between retail and mail-order operations – meaning more satisfied customers during a business explosion that could redefine Bluestone's customer base for the next decade.
Conclusion
Bluestone and Arbré Tech – Success Tested Under Fire
Everyone wants "battle-tested" gear – systems and equipment that have been evaluated under the most grueling circumstances and found to be effective. Arbré Technologies' equipment and systems were up to the test. In a situation where they had to perform flawlessly, for weeks on end, they did just that. If Arbré can help Bluestone Perennials meet the biggest challenges in its history, it can help you. Contact us today to learn more.