Arbré Nursery
Our revolutionary inventory tracking system designed to efficiently track and manage green assets
RFID Inventory Management System
Arbré Nursery is our revolutionary inventory tracking system that syncs nursery inventory with our cloud database via radio-frequency identification (RFID) tags. Our system is specifically designed to efficiently track and manage green assets including field-grown trees, shrubs, container stock, trays, pots, pallets, racking, bins, and more.
The system includes custom reporting features that help you make good business decisions, and hassle-free integration with websites and point-of-sale and financial management systems.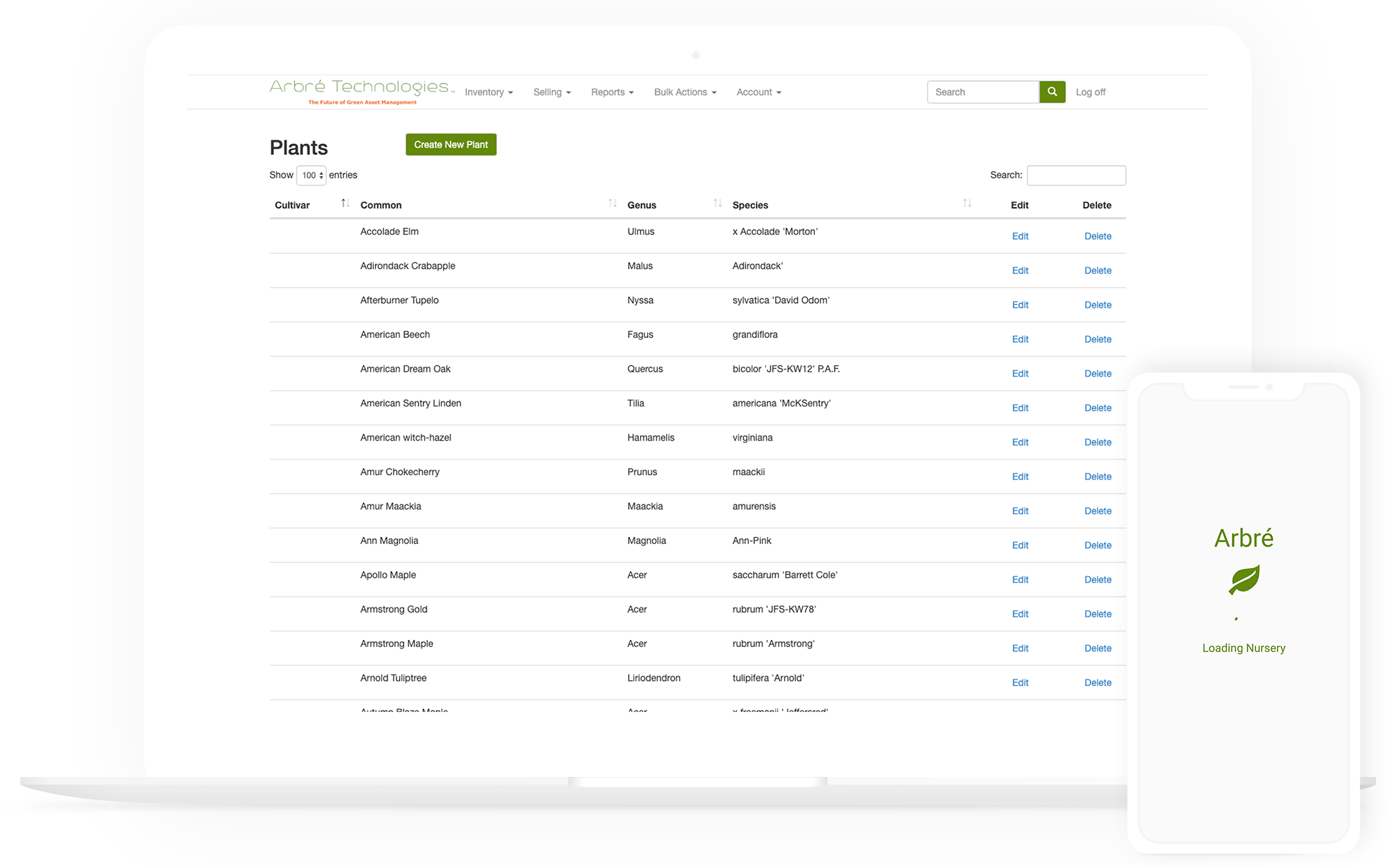 Software Modules to Help You Work Smarter, Not Harder
Inventory
Sales
Purchasing
ArbreScan Bulk Scanning
Arbre Marketplace
Business Intelligence
The Arbré Difference
We provide everything you need for a successful inventory management solution – from durable hardware to software modules that improve performance and reduce costs in your business.
Rugged RFID
Our rugged RFID tags are built to last for 10 months to 10+ years, meaning they can be used for multiple growing cycles or as consumables. Our tags are designed for all types of horticultural applications in horticulture — any inventory type, any environment.
Process Driven
Reduce in-field labor costs by more than 80% with app modes like caliper, stat, and create inventory. Modes represent lean cloud computing at its best, automating clicks and streamlining in-field data entry while syncing data back to the office and updating availability reports real-time.
File Management
Our File Management functionality helps you manage inventory-related documents, photos and other files. Store compliance files, lab tests and other regulatory documentation with inventory items to help with track-and-trace compliance, or attach vendor claim documentation, plant health records, spray records, and crop insurance files directly to a plant or tree profile.
Integrations for Sales
We offer dynamic order building — ultra-simple revision and substitution processes. Sales are auto-populated in QuickBooks or other integrated systems to eliminate duplicate entry. Estimates, tag docs, dig reports, and invoices are generated at the click of a button.
Field Ready
Our cloud-based application functions real-time, whether you're on a desktop in the office or in the field taking live inventory counts on your tablet or phone. The in-field app, available on the App Store, is uniquely streamlined to require minimal clicks and navigation.

Instant Visibility
Users scan the RFID tag to populate the item profile on mobile devices for fingertip access to editable data. Weatherproof scanners read RFID tags within feet or inches, depending on the use case. Long-range antennas can be used for autonomous applications like RFID portals, ATV mounts, or drones.
Costing Tools
Depending on tagging method, the inventory's unique profile can be accessed through the zone map. The profile displays various statistics in addition to a customizable status used to differentiate inventory for sale from inventory not for sale. User-specified statistics are tracked for better costing.
Business Intelligence
Precision inventory with RFID provides invaluable data that our BI tool can drill into with a few clicks. BI helps with production planning, forecasting, and benchmarking, yielding better decision-making across all business functions — moving your business from being precise to being predictive.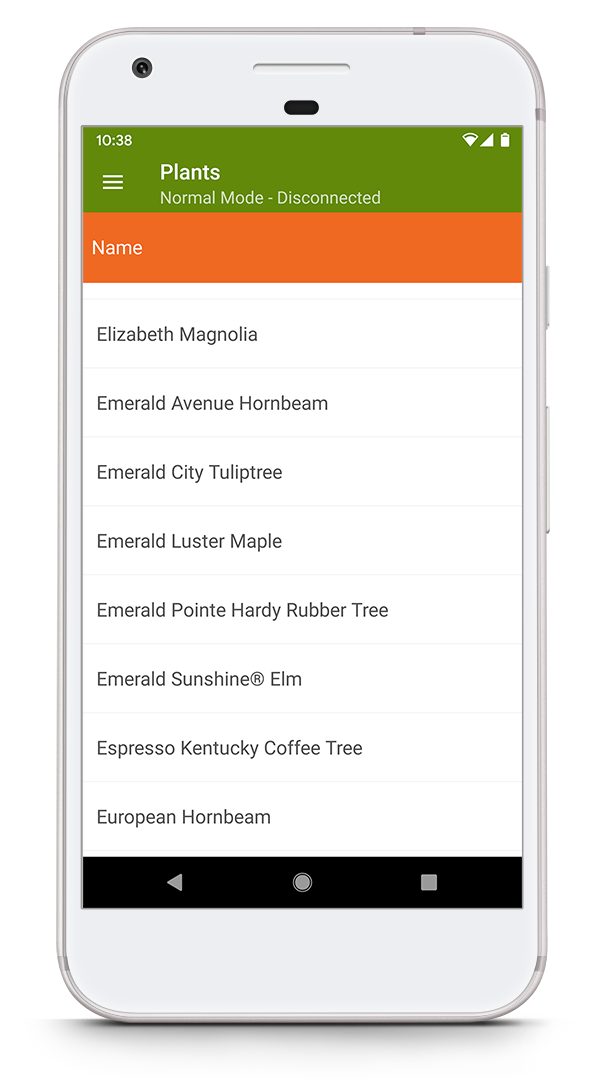 Pricing
Our software solution is priced based on a blended rate of inventory volume, RFID tagging method, and overall data volume. Hardware is priced per unit — an upfront cost varying based on tag type and quantity.
Arbre Tech is committed to straightforward pricing. Hardware, software and service — everything needed for success is included in your estimate.
Monthly software subscription
Blended rates depending on your application
Full-service solution
Customer commitment
Qualitative & quantitative ROI
Try Our DIY Starter Kit
We believe that "seeing is believing" and are more than happy to let you experience the solution for yourself for up to 30 days.
I am impressed with Arbré Tech, because as technology is quickly changing every industry in the world, agricultural businesses are typically left behind. By bringing this innovative inventory system to the tree industry, it helps reduce labor and improve accuracy among inventory counts and tree quality. I am confident that in time, tree farms will need a system like this in order to be competitive.
Frequently Asked Questions
With anything new, there can be a learning curve. We're here to help you take full advantage of the best inventory tracking methods no matter your tech savvy.
Is my nursery too small to see the value in an RFID tracking solution?
The Arbré Nursery RFID Inventory Management System is scalable for nurseries of all sizes. This includes nurseries as small as 20,000 trees to those with 500,000 or more. The system can track individual trees or inventory units, rows, bundles, pallets or batches depending on volumes and anticipated ROI.
Is it worth tracking the individual trees or units of inventory?
Maximum efficiency and results are realized when tracking individual inventory units, especially for finish growers that handle half-inch and above stock. Seedling growers, or growers handling shrubs or other small units, find value in tracking inventory by row, zone, farm, bundle or pallet. The system caters to each scenario as needed.
Is the system flexible enough to work with different types of growers such as seedling growers, liner producers or finish growers?
Yes, the system caters to each type of grower. Arbré Nursery is unique in that it can track inventory in batches or single IDs. For example, a finish grower may find value in tracking each individual tree; whereas, a seedling grower or liner producer will find it more economical to track inventory counts per row, block or zone. Arbré Nursery offers solutions for each type of grower.
Is the system user-friendly and does it come in different languages?
We have the best in-field application in the industry. We've streamlined the flow of information to make this mobile application ultra user-friendly. The mobile responsive design populates only the most essential features you need to use when performing specific tasks. The app also displays multiple languages depending on user preferences.
Can the system be used in different types of growing operations such as pot-in-pot, ball and burlap, or bare root?
Yes, the system can add value to all types of growing operations. At the end of the day, inventory is inventory regardless of the operations or flow of goods and information. Arbré Nursery is unique in that its flexible RFID technology can be applied to all growing types to track and manage unique information and inventory flows.
How can I justify the initial up-front cost of purchasing the software, RFID tags, and scanners?
The initial cost can be challenging to overcome; however, with flexible financing options and guaranteed long-term returns, the cost can be easily justified. For example, users realize time savings as high as 80% in manual processes such as calipering. The up-front cost, when spread over several years, is equivalent to pennies per tree.